Studio 1
Kevina-Jo Smith - visual artist/art director
Kevina grew up in country Australia, building cubbies and creating spaces in which to hide and disappear. Her drawings are a natural extension of this desire for secrecy and escape, and physical manifestations of daydreams that are at once utopian and sinister. She is interested in exploring multifaceted realities that lie somewhere in between fantasy and reality, public and private, natural and artificial, light and dark. Kevina's meticulously detailed and densely layered images draw the viewer in, always allowing them to uncover a hidden message. if they so desire. Kevina is currently working towards a solo exhibition at Black & Blue gallery in Sydney.
EMAIL:
kevina.79@gmail.com
Cara Stricker - photographer/director/visual artist


Inspired by her surroundings, Cara uses film and light to explore her subjects, taking emotive elements of our world to recreate another. Experimental in her work, she moves amongst an array of photography, film and visual art practices. Within each project, a cinematic quality brings romantic and fantastical notions to life. Her dreamlike fascination with the world is manifested in her recently completed frame-by-frame animated short film,
The Dark Side of the Sunny Moon
. Sydney based, she is currently working on various photographic projects and an exhibition centered on her leather-feather headpiece creations.

EMAIL:
carastricker@gmail.com
BLOG:
cara-kicia.blogspot.com
Studio 3


Trischelle Roberts - writer/musician

Vivian Huynh - writer/musician


We make music in our band No Art with a guy named Charles.

We write stories and reviews about film, art, theater, music,
opera, and anything else that comes to mind.
We educate about writing, speaking, history, drama, music
and the law.
We put notes on Post-Its such as 'fight in the nocturnal house',
and stick them to the window for future reference.
We form plans about what we're going to do next.
Amelia Groom - freelance writer


Amelia uses her single studio for writing in, scheming in, sewing in, hiding in, and bench-pressing in. As arts editor for the weekly and monthly local papers City News, City Hub and Bondi View, Amelia covers art, theatre, film and music. She also does the visual art content for Two Thousand. She contributes to various art/culture/fashion publications and has written a thesis on masks, illusion, design and aesthetics in Japan. She is tremendously fond of Japan. She is less enthusiastic about not getting back all the Tupperware she has lent to people. If you have some of it, please return it.



INSPIRED BY:



EMAIL:
agroom@hotmail.com
Benjamin Tuffy - art director/designer/illustrator


Benjamin Tuffy is a multiple award winner Art Director in the publishing industry, working within the Action Sports division of EMAP Australia (Recently bought out by ACP magazines) for over 5 years on titles such as Australian Mountain Bike, Australian Outdoor and Australasian Dirt Bike magazine he's become a versatile designer with freelance experience on magazines like ZOO, FHM, Smash Hits, Australian Skate and a range of Disney titles. With latest project 'Sydney Airport Travel Magazine' coming to a close, he's now chosen to go out on his own to work and collaborate with other artists and designers and move more towards developing design concepts for brands and companies he feels passionate about.
WEBSITE:
www.tuffydesign.com

Christopher Samuel - photographer


Christopher Samuel is a Sydney based freelance photographer. He earnt his stripes gallivanting around Europe in 2003-2004 shooting musicians, sport, fashion & theatre. Published work includes SMH, Schwarzeseiten, 2020BMXMAG, AustralianMountainBike, GreenLeftWeekly, Groupie Magazine, 3D World & Bambina Borracha Prod. Recently Christopher has been shooting theatre, live music & street works. Also, he is editing for an upcoming book & is in pre production for stills & video projects. Travel again calls, in the next months he'll be off to south East Asia for another round of inspiration & good eating!
Michaella Solar-March -
Freelance Journalist, Magazine Editor, Publicist, Film Producer, and Music and New Media Consultant
2005-2008 Michaella hosted FBi Radio's breakfast program Up For It weekdays from 6-9am. Since she left FBi in March 2008, she has been working as the editor of Groupie Magazine and as the publicist for Sydney label etcetc, writing for various Australian and International magazines (NO, Russh, Doing Bird etc), putting on parties, editing blogs and music websites, DJing, producing films for Shoot The Player, and scouting music for Melbourne's Level Two. She also works as a new media and music consultant for companies with loads of money and no idea!
PHONE:
0421 737 555
EMAIL:
m.solarmarch@gmail.com
BLOG:
www.somegreygardens.blogspot.com


Grant Keats - graphic designer/re-toucher


Primarily my work is set as a photographic retoucher and my background lies solidly in the printing and publishing areas. My years have seen my artistic flair progress and in 2004 i ran my own business in Oslo, Norway for 2 years. This is where I set a solid foundation of Advertising and Photographic clientele where many of my prestigious clients lay. Essentially my retouching strengths lie in Beauty, Fashion, Commercial and Artistic retouching though a flair for design and an unhealthy addiction to making music keeps my work diverse and my brain intact. I see 2009 as great opportunity to expand my clientele in Sydney and to bring Photographic Art to a new and exciting level by collaborating with other artists and designers in our creative environment.
EMAIL:
grantkeats@gmail.com
WEBSITE:
www.grantkeats.com
Studio 6


Elke Kramer - jewelery designer


Elke kramer is a sydney jewellery designer, graphic artist, art-director and flower-picker.
her work celebrates the peculiar and flamboyant and stretches across a multitude of mediums, from yardage prints, illustration, branding and her own line of jewellery and accessories.
her eponymous brand, elke, is collected and coveted by art-jewellery lovers across the world.
the cornerstone of her creative endeavors though, is her experimental cookery.
known as a 'modern-day martha stewart on acid', her unconventional approach to home crafts and baking will be soon showcased in a new magazine she is co-creating, launching this year.
EMAIL:
info@elkekramer.com


Mikie Inglis - graphic designer


Michael Inglis is a lance for hire in the murky world of graphic design. He had multiple nervous breakdowns working in the art department of fashion label Ksubi from 2003 to 2007, and is now gainfully unemployed thanks to the patronage of various disreputable benefactors. He also makes a mean mix-tape, and by night he can be found playing songs to the corrupt and the craven.
EMAIL:
mikieinglis@gmail.com

Greedyhen - art collective


We make sights for sore eyes, Art, record covers, books, tour posters, occasionally music film clips, and other monstrosities. "their work is like the accidental joy of seeing the
strings AND the hands in a puppet show" -Steak Mountain
Greedy Hen is an art collective / studio, housing the collaborative works of Katherine Brickman and Kate Mitchell. We are story tellers, illustrators, Artists, collectors, bookmakers, explorers and adventurers. Greedy Hen devise projects intent on creating images eluding to a playful black humour, unwritten fables, or subtle off-kilter sinister elements lurking amongst a kinder-esq beauty. We utilise various meduims preferring to let our ideas manifest in whatever way seems to be most appropriate at the time. Greedy Hen is a social sieve presenting the quirky nuances hidden in the everyday.


EMAIL:
katemitchell@greedyhen.com


EMAIL:

katherinebrickman@greedyhen.com

Studio 7


Benja Harney - paper engineer


Ive been constructing things out of paper since I was a kid and by complete chance, I rediscovered my love for this medium when I studied graphic design.
It has since become a real passion for me and I have been lucky enough to turn it into a career.
I love paper how paper is such a humble medium. It has historic and analogue qualities that appeal to my sensibilities. It is fragile but strong. Simple yet complex.
The technical challenge of creating amazing things with paper drives me forward. I love the sense of wonder that come across peoples faces when they open up one of my pop-up books. They're like hidden worlds rediscovered.


Studio 8


Lucinda Schreiber - animator/director/visual artist

Lucinda Schreiber is a Sydney-based illustrator, animator and director. Her debut animated short film, "The Goat That Ate Time" recently screened widely in national and international film festivals. Written, directed, animated and produced by Lucinda, "The Goat That Ate Time" was also nominated for an AFI award, won an IF Award for Best Animated Short and received a Best Emerging Director Award at the Chicago International Children's Film Festival. She is currently working as a director and animator on various solo and collaborative projects as well as exhibiting her art wherever the good people will let her.
EMAIL:
lucindaschreiber@gmail.com
Helen Fitzgerald - designer/art director/visual artist
Helen moved from Perth to Sydney to study Production Design for Film at AFTRS. She was awarded the Fox Studios Australia Award for Excellence in Design and selected by the Berlin International Film Festival as an emerging 'talent'. Helen's recent work in Sydney, LA and NYC includes set and costumes design for film, animation, TV and commercials. Helen designed an installation for a full sensory fashion show for Something Else by Natalie Wood, Art Directed music videos for artists such as Sia, Hercules and Love Affair and Beck and recently created a collaborative sculptural work which she exhibited with her friends from HQ BJB.

EMAIL: mail@helenfitzgerald.com.au
Studio 9


Daniel Stricker - musician

i play music... with a lot of different toys. and i really like the ocean.. and bunnies.. and
太陽の王子 ホルスの大冒険
.
Here are some places you will find me:
MYSPACE:
www.myspace.com/midnightjuggernauts
MYSPACE:
www.myspace.com/fashionlaunchesrocketlaunches
EVENTS ON THIS MONTH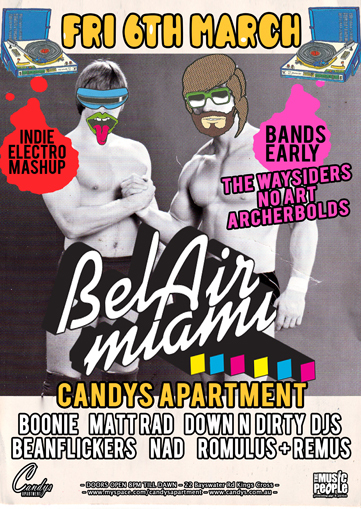 DICTIONARY
Rush:
A sudden quick movement toward something, typically by a number of people.